As all of you, we've been closely following what is going on in Italy with a heavy heart but also with our hearts full of hope that this one day will all be over, and people will be able to go out on the streets again, be with their family and friends and enjoy what we believe is one of the most beautiful countries in the world.
That said, we partner up with Alessandra Lauria, from The Pasta Queen, to celebrate Italy in the best way possible – with food!
Alessandra will be sharing with us some of her own recipes during this week. All of them are quick and easy Italian recipes that anyone can do while at home during this quarantine.
Check the first one here 👇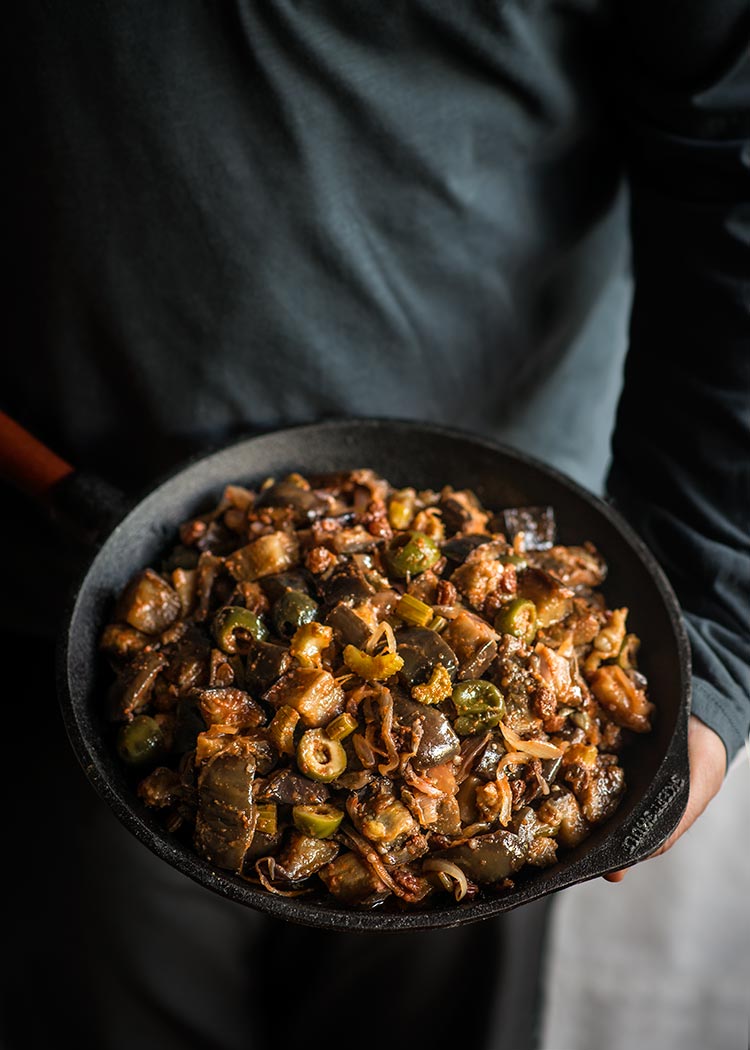 Caponata Siciliana
Ingredients
Aubergine 1 kg;
Celery 400 g;
White onions 250 g;
Cherry tomatoes 200 g;
Green Olives 200 g;
Hazelnuts 50 g;
Natural sugar 60 g;
White Vinegar 60 g;
Parsley (a bunch);
Tomato paste 40 g;
Extra virgin Olive Oil;
Salt.
Method
Clean and chop the onion, celery and the green olives;
Wash and dry the aubergines, chop off the ends and cut them into small pieces of about 2.5 cm square. Do the same with the tomatoes (but if you use the cherry tomatoes cut them just in half). Heat a sauce pan with olive oil and, when the oil is hot enough, fry the aubergines for a few minutes. Once they are golden brown, drain and place them on a tray with some paper towels to remove the excess oil;
In a large saucepan, fry the onions, celery and then add olives, nuts and tomatoes and keep stirring for a few minutes and cook on a low flame for 15-20 minutes. Meanwhile, prepare the sweet and sour sauce with the tomato paste, vinegar and sugar and mix well with a tablespoon;
Once the vegetables have cooked, add the fried aubergines and pour the sweet and sour sauce into the pan. Stir, raise the heat and keep stirring until the vinegar has evaporated, but remember to add salt and pepper as well as some parsley into your caponata;
Mix everything well together, transfer the caponata to an oven glass baking tray (or whatever you have) and let it cool down for a bit;
Watch how to make our magic Caponata Siciliana!
And by the way, if you haven't done it yet, go check Alessandra Lauria – The Pasta Queen. She is hosting a course on Italian pasta without eggs (you read the right!).
Check out 2 more delicious recipes from the #ItalianWeek: Spinach Pesto and Salsa Verde!