So, you're ready for your next adventure in Europe but the high cost of flights is holding you back? Worry no more! We're here to share with you some of the best tips and tricks to find those low-cost flights around Europe.
1. Use a good flight search engine
One of the best ways to compare the costs of flights from many different airlines is by using a flight search engine. Instead of going directly to an airline's website, using a website such as Skyscanner or Momondo will ensure you find the cheapest airline to fly with.
You can enter your proposed departure and arrival destinations, and the dates you intend to fly on. These websites will show you all the possible ways to do it, highlighting the cheapest option. Make sure you use more than one, as some often have cheaper flights than others.
2. Be flexible with dates
In order to make the most out of the flight search engines, ideally you need to be flexible about when you are going to fly. For example, Skyscanner has a feature that allows you to see the cheapest flight for every day of the selected month. This means that if you are willing to adjust your travel dates, you could get a much better deal. Even one day can make a big difference!
3. Be flexible with chosen airports
It may seem obvious to search for flights from the closest airport to you, to the closest airport to your proposed destination. However, taking a bus on either end to/from a further away airport could reduce your overall costs. Larger cities often have airports further out than those near the centre. These usually provide cheaper flights and with the option of a transfer into the city. A bit of extra transfer and travel time could really help you to keep the costs down.
4. Consider a stopover
Direct flights are usually the most expensive. In order to keep your costs down, one option is to get a non-direct flight that includes one or more stopovers. This will, however, depend on the length of your trip. If you're short on time, this might not be the best option.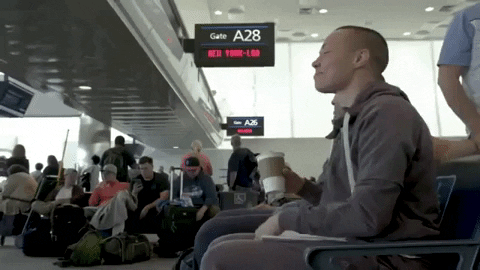 5. Be flexible with your destination
Some destinations are obviously extremely popular, especially at certain times of the year (think Barcelona in July). You may have to reconsider where you would like to go. Take a chance and look for off the map destinations and destinations like Easter Europe. These two options normally offer lower prices. Similarly, if you can book your trip so that it is during the off-peak season, you're also going to save money. 
Related post: 10 apps to download before your next trip
6. Limit your searches
Some people say that the more you search for a particular flight, the higher the cost will be. It is said that search engines/airline websites track their users' searches. Knowing that you are interested in the flight, they attempt to charge you more. There is a bit of debate about whether this is just a myth or not, but it's better to be safe than sorry, right? So, every time you make a new flight search, make sure you've cleared your cookies and history and are in private browsing mode. 
7. Book early (but not too early)
People often think that booking as far in advance as possible will ensure that you get the cheapest flights, but this isn't necessarily true. If you're travelling off-peak and to a less common destination, then the best time to book your flights is between 8-6 weeks before the proposed departure dates. This is usually around the time that airlines lower their prices to ensure that seats fill up before travel. 
8. Baggage
This is a fairly obvious one, and pretty much goes without saying. The more baggage you travel with, the more you will pay for your flight. So, make sure you pack light, ideally only travelling with a cabin bag, as hand luggage-only fares will be the cheapest.
9. Keep an eye out for deals and sales
Airlines sometimes do big sales. For example Ryanair's summer sale  has some flights for little more than €10! You can sign up to a mailing list to make sure you're kept up to date with any deals that are going on. Also remember that some airlines can offer discounts for students so make sure you check this before you book your flight!
Tip: if you have an ESN card (Erasmus Student Network) you can get 15% off and a free 20kg cabin bag on Ryanair flights within Europe!
So, next time you're planning a trip within Europe, follow these tips and tricks and you'll be sure to find the best deals on your flights. Good luck and happy travelling! 
And remember: if you need student accommodation, you'll find the student home you're looking for on Uniplaces.
Josephine Irving
Josephine is an undergraduate student currently studying in Porto, who has a passion for languages and cultural exchange which she loves to share through her writing. She is a keen traveller, so when she's not on a plane, you'll find her either learning a new language, in a yoga class, or cooking up an exotic dish in the kitchen.