As we are getting closer to the end of October probably most of the holiday and party geeks have already started to think about where to celebrate Halloween and, above all, what costumes to wear at this creepily exciting part of the year. However, making the final decision is not an easy process and surely there are always those who struggle with finding out who to embody for the night when living and dead get together. Whether you already have your dress hanging in your wardrobe or you just start the prep, here are seven incredible costume ideas that never fail when Halloween knocks on the door.
1. Superhero costume
Don't deny. You all wanted to be superheroes when you were kids, didn't you? The popularity of superheroes is still unbreakable thanks to the immense film adaptations in recent years. For this reason, dressing up like your childhood role model is always a key to success. Becoming Thor, Hulk or Superman for one night will not only satisfies your hiding kid-self but also will make it sure that your costume will be a winner.
2. All-time film and novel classics
It's almost impossible to imagine Halloween without Dracula, the Mummy or the members of the Addams Family. According to the Law of Large Numbers, there will surely be at least one of the above mentioned figures at the parties. They say the more the merrier. But if you would prefer not to be the 4th Dracula, then get some inspiration from the best and scariest horrors and thrillers of all time and dress up as Freddie Krueger, Edward Scissorshand or Annabelle.
3. Person of the year
Do you like keeping pace with the current affairs? Thanks to the power of media, each year we have at least one central figure who we talk about until we get totally bored. In the last few years there were no parties without Donald Trumps or Conchita Wursts. Who should you embody this year? Meghan Markle can be a sure-fire. It's important to note that this category of costumes is not only a source of fun but can open up topics to talk about and make new friends.  
4. Couple or friends together costumes
Double the terror: dress up as a deadly couple, just like Frankenstein and his Bride with your other half or decide on becoming the scary twins with your best friend. It's always a bigger a hit, if you cooperate with your partner-in-crime, since it can open up new ideas and together you will definitely pull the others' legs at the party.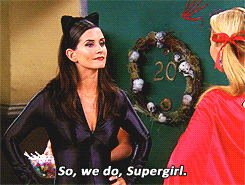 5. Well-known video game characters
Besides superheroes, video game characters are also popular choices if it's about costumes. Yet, in order to achieve the highest level of success at the Halloween event, you have to make sure that your choice is well-known not only amongst video gamers but also amongst those who are not really keen on this type of leisure activity. Thus, Pac Man, Mario or Scorpion. Try to focus on the key tools and elements that the hero always uses.
6. Terrifying characters from everyday life
Annoying neighbour, assignments or the suspicious landlord – they all sound familiar, right? Holidays and parties are for leaving behind about all these, you might say. Instead of ignoring the obstacles of everyday life why not face them and make fun of them by dressing up like for example one of the nightmares of every (foreign and local) student: the landlord.
7. Typical Halloween elements
In the case, you have totally run out of ideas or perhaps your friends have already taken the best picks, you can still stick to the typical Halloween elements that include dressing up such as a ghost, skeleton or injuries. This group is probably the least costly since it doesn't require a lot of accessories to be a ghost or a bloody injury. Simplicity can sometimes be an advantage, though.
Thank you for reading this post!
We hope that all of you could get some ideas for this year's Halloween party. Leave a comment below which one you liked the most. And remember: if you need student accommodation, you'll find the student home you're looking for on Uniplaces.
Eniko Kiss
Enikő Kiss is an Art Theory and Art History student currently studying as an Exchange Student at the Universidad Complutense de Madrid. Born and raised in the south-east of Hungary in a family with artistic intentions, she has tried many means of art (starting from 11 years of dancing through fashion to films). Besides showing special interest for design theory as well, the love for languages led her to start writing in English, so that her ideas and thoughts can reach more people.