Whether you are a man or a woman, whether you consider yourself a feminist or not, it's undeniable that women's rights is still something we all have to fight for.
On International Women's Day, we want to share 16 real and fictional inspiring women for millennials when growing up.
Happy Women's Day!
In Fiction
1. The Powerpuff Girls
Sugar, spice and everything nice. The Powerpuff Girls was created by Craig McCracken — a man, no less — in 1998, and was broadcasted on Cartoon Network. It centred around three kindergarten-aged girls who had superpowers.
Female leads are popping up all the time in today's entertainment business (Star Wars, anyone?), but in the late 90s, who'd have thought girls could be represented as superheroes, let alone kindergarten girls?
What struck the most in this show, however, was how it broke major female stereotypes: Blossom, the smart one who loved books and maths, but yet obsessed with her looks, thus breaking the typical stereotype of women either being beautiful or smart, but never both; Bubbles, the overly sweet one who could also be brave; and Buttercup, the tomboy who always wears a dress and matching shoes.
2. The Women of Harry Potter
Young or old, there are several inspiring women in the Harry Potter series. Whether it's Hermione, "the brightest witch of her age" who turned into a woman who valued friendship and bravery; or Luna Lovegood, who embraces her peculiarity regardless of how people perceive her.
As for the older women in the series, who can forget Narcissa Malfoy, who ignored her family's pure blood status and became one of the heroes of the Battle of Hogwarts, valuing her son's life over Lord Voldemort's mission; Molly Weasley, who makes all feel welcomed and has the gumption of pulling out her wand to protect her own; Lily Potter, who valued love above all else; or Minerva McGonagall, whose severity is quickly shaken off by her kind nature.
3. Shirley Holmes
A Canadian TV show from the 90s about Shirley, the great-grandniece of the iconic Sherlock Holmes.
During the intro of the show, the detective reads out a letter which seems like his will, and says that while he had no heir, he "pictured you — a young man of good imagination" to follow in his path. Little did he know that that young man turned out to be a young girl who can also proudly wear a deerstalker and solve crimes.
4. Mulan
Whatever you say, Mulan is the original badass "princess" who didn't follow stereotypical Disney plots. The film provided young girls with a positive female role model while many of her fairy-tale counterparts failed to do so.
Mulan is the only child in a traditional Chinese family, expecting her life to revolve around finding a husband and correctly serving tea — a stereotype she doesn't fit in, no matter how much she tries. She ends up disguising herself as a male soldier and joins the Chinese army, sacrificing her own life for her elderly and injured father who'd have certainly died in battle.
The best part about Mulan is that the story doesn't revolve around the girl finding her prince to find happiness and recognise her self-worth. Instead, Mulan uses her own intelligence and strength (with the help of her trusted dragon sidekick, Mushu) to find her true self, save her father, and the entire Chinese population. She proves to be equal to her male comrades and shows how wrong their stereotypical views of girls and women can be, finally learning to see someone worthwhile in her reflection.
5. Princess Leia
One might say Leia was the first truly kickass princess. In a time when Disney focused on the picture-perfect female leads, George Lucas created in Leia the first pop-culture princess to take matters into her own hands to save the entire galaxy.
At first introduced as the typical damsel in distress, Leia turns out to be a talented welder, fixing Rebel starships in her down time, and her outfits (apart from one) matched one of an actual action hero, and not as a sex object, making this female hero more realistic than the bathing suit-wearing Wonder Woman. All of this in a sci-fi movie in the late 70s!
Funnily enough, Disney now owns Star Wars and has created badass female leads of their own for the franchise. We can't wait what else they have in store for Rey!
6. Buffy the Vampire Slayer
Buffy is the story of a popular high-school student chosen by fate to slay vampires, demons and other nonhuman creatures.
There are many female characters on Buffy, and they all embody different types of female power. The Vampire Slayer herself represents physical strength, as she often uses martial arts and her own body as a powerful weapon; Willow Rosenberg, Buffy's best friend and a witch, is extremely talented in a magical sense while also being a technology and science buff, a trait usually assigned to male characters.
These feminist details are often implicit during the show's seven seasons, especially in its last one, when Buffy goes up against the most misogynistic character to ever cross our TV screens: Caleb, an evil priest with a pathological hatred of women. Naturally, Buffy destroys him in the end, burying his sexist ideals.
7. Katniss Everdeen
A recent heroine, Katniss Everdeen from The Hunger Games proved that no matter what your background is, you have enough strength to change what you think is wrong.
The story is set in a dystopian future where children are forced to kill each other on television to entertain the rich and powerful. When Katniss's sister is selected to be one of them, she immediately volunteers to become a tribute, knowing nice and gentle people like her sibling don't win.
While Katniss isn't exactly a very likable character, her qualities are so much more admirable than others' in the Young Adult segment (*cough* Bella from Twilight *cough*). She is an unusual heroine: a killer, a hunter, a cold, young girl who doesn't falter when faced by the two boys who would do anything for her, but who acts when confronted with political and social injustice.
8. Princess Mononoke
Don't let the word "princess" fool you into imagining characters like Ariel or Cinderella. Princess Mononoke aired in 1997 and was written by a very popular Japanese animator and director, Hayao Miyazaki.
The film focuses on Ashitaka, a young prince who is struck with a curse after protecting his village from a demon. After being banished by his people, he sets off on a journey to try to eliminate it. On the way, he encounters Lady Eboshi, the main antagonist, who manufactures and uses firearms as weapons.
He also stumbles upon San, Princess Mononoke, the adopted daughter of a wolf goddess, while she's removing blood from the animal's wound (definitely not your usual Disney princess). She has a strong hatred towards humans, especially Lady Eboshi, and fights to protect the forest at any cost, while also showing acts of kindness when needed.
In Real Life
9. Princess Diana
The people's Princess gone too soon, Diana Spencer, Princess of Wales, was one of the most rebellious members of the British Royal Family.
As in any royal family, scandals are to be avoided at all costs, something Diana never conformed to. She was one of the first high profile people to be pictured touching people suffering from AIDS, significantly impacting people's opinions and attitudes towards this disease, one that certainly didn't follow the protocol of the Royal family.
Diana will always be remembered for being an unconventional princess, for her humanitarian work, her warmth, and for being a loving mother, whose life in the public eye ultimately led to her untimely death.
10. Meryl Streep
Apart from being the best actress who has ever lived, one who has been nominated for more Academy Awards than any other actor, and one who "could play Batman and still be the right choice", Meryl Streep advocates globally for women's rights.
A couple of years ago, Meryl continued her battle towards achieving equal rights for women by writing a letter to every single member of the American Congress, demanding them to "stand up for equality" and revive the Equal Rights Amendment. Regardless of her outstanding talent as an actress, it's inspiring to see that she uses her influence and channels to keep these issues on everyone's mind.
11. Malala Yousafzai
Nobel Peace Prize winner at only 17, the now 19-year-old Malala Yousafzai needs no introduction.
In 2012, Malala was shot by a Taliban gunman because of her activism and effort to empower young women. Her miraculous recovery made her even stronger, and she has since created the Malala Fund, supporting girls' education worldwide.
What started as a simple message of wanting to go to school turned into a powerful message of everyone being entitled to an education and equal opportunities, regardless of gender or religion.
12. Sheryl Sandberg
Sheryl Sandberg is an original #BossLady. In 2008, she left Google to join Facebook as its Chief Operating Officer. Today she manages Facebook's sales, marketing, business development, human resources, public policy and communications.
Apart from being one of the rare women in a C-level position in one of the world's multi-billion dollar companies, Sheryl founded LeanIn.org, a non-profit organisation whose mission is to empower women to achieve their ambitions. Her key messages include acting fearlessly, demanding equal opportunities, and acknowledging the work of female colleagues. We're sure she had something to do with this.
13. Emma Watson
Aside from having been a part of one of the world's most popular franchises, actress Emma Watson was appointed UN Women Goodwill Ambassador at just 24 years old. She leads the HeForShe campaign, which strives for gender equality.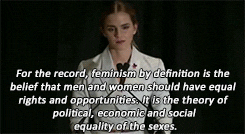 Emma has already visited countries like Bangladesh and Zambia as part of her humanitarian efforts, has worked to promote fair trade and organic clothing, and served as an ambassador for Camfed International, a movement to educate girls in rural Africa. Emma is just another example of a woman using her influence and channels to boast positive and empowering messages.
14. Simone Biles
Even before last year's Rio Olympics, Simone Biles made history at the 2015 World Gymnastics Championships in Glasgow, winning four medals.
She is often described as the top gymnast in history, having won a combined total of nineteen Olympic and World Championship medals at only 18 — the most any American gymnast has ever won. When asked if she thought she was the next Usain Bolt or Michael Phelps during an interview, she sassily answered, "I'm not the next Usain Bolt or Michael Phelps. I'm the first Simone Biles". Boom.
15. The Spice Girls
Even though they were the original advocates of "Girl Power", the Spice Girls are usually viewed as a fabricated musical group. And even though that is technically true, it doesn't mean they didn't contribute a lot to female empowerment.
On the contrary: they were the original bearers of feminism in a time when girls had never even heard about it. They made sure to let us know that all of us, as a group and not as individuals, could take over the world. That girls matter, that they're entitled to their own opinion regardless of the way they dress — belly-baring tops, short skirts or tracksuits — messages that have stuck with us since Viva Forever.
16. Our Mum
And our sisters, our friends, our aunts, our grandmothers, our coworkers.
Because whether you like to admit it or not, your mother will always have your back even if you have a slightly wobbly relationship.
Men and women, boys and girls: celebrate the women in your life, value them, and treat them as your equal.
---
Thanks for reading this post!
What other real or fictitious women have inspired you over the years? Let us know in the comments. And remember: if you need student accommodation, you'll find the perfect student home on Uniplaces.